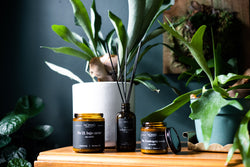 Nomad Candles & Co.
Olive Branch & Rose - Citrus | Floral | Earthy
This special fragrance is near and dear to the owner, Kelly's heart. This candle scent is a dedication to her grandmother, Rosemary. The scent brings back memories of childhood as it smells like her perfume. We HAD to add it to our Spring line, as it was Rosemary's favorite time of year seeing her garden come to life. 
Scent Description: This musky floral opens with citrus highlights of fresh lemon and sweet orange. Green herbaceous tones mingle with a fresh fantasy floral accord at the heart of the fragrance. 
***New photos coming soon***
Nomad Candles are hand poured in home upon order in Charlotte, North Carolina. Our scents are phthalate free and are made dye free to maintain a clean burn and an aesthetically pleasing creamy color. The wood wicks add visual beauty, an extra dimension of scent, and a light crackle sound as it's burning that is very soothing.


Why soy is best:
- Clean burning- no black smoke, toxins, or residue
- Soy is all natural and hypoallergenic, made from 100% soy beans
- Longer life- Your candle will last 85 hours or more- allow your candle to make a wax pool to the edge of jar upon first burn for best results